… is a content strategist, storyteller, and user advocate.
Hello! I'm currently a UX Content Strategist at Vanguard. Before that I was the Director of Content at Bresslergroup, an insight-driven product innovation lab in Philadelphia.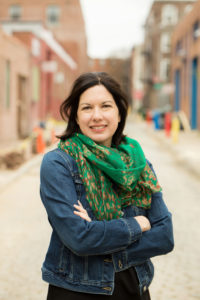 Design and storytelling are the two threads that run throughout my career. I've long focused on design in my writing, first as a journalist and now as a content strategist. I'm hooked on design's ability to deliver useful, beautiful, and equitable solutions for all kinds of problems.
At some point I realized writing has a lot in common with design. Like design, writing is equal parts rigor and creativity — it's best when it's driven by insights and crafted with care. Like writing, design is optimistic and human-centered.

My background is in publishing, journalism, content marketing, and digital strategy. Some highlights (so far!) from my career include:

• Building the content program that contributed to Bresslergroup's growth from a company of 30+ employees when I first started to 100+ employees at the end of my tenure
• Launching a voter education meme campaign that made a real difference
• Traveling on assignment to Paris to write 5,000 words about flea markets (as you can imagine, that was a tough one)
• Writing books on topics from Isamu Noguchi to General Howe's Dog (and becoming a regular at Revolutionary War re-enactments to promote the latter)
• Co-curating an exhibition that put Philadelphia design in context


You can find out more about my career path on LinkedIn and read my writing on Medium.
When I'm not busy with work, I'm probably spending time with my family in Queen Village, Philly's oldest neighborhood. Or I might be serving my neighbors in Philadelphia's 2nd Ward, 15th Division as their elected Democratic Committeeperson.
Thanks for visiting! If you'd like to get in touch, please e-mail me at [email protected].